The Organising Committee of the 6th Chinese in Africa / Africans in China Research Network Conference invites you to join our 6th online mini-symposium titled 'Ethnographies of Mobility: Circular Migration and Uneven Geographies' this July 2, 2021 (Friday).
Join Vivian Chenxue Lu, from Fordham University; Derek Sheridan, from Academia Sinica; and Mingwei Huang, from Dartmouth College, for an insightful conversation about circular migrations of Chinese and Africans between China and Africa. The speakers will delve into how shifting uneven geographies shape migrant motivations, destinations, and experiences as racialized, national, ethnic, and gendered subjects.
This event is hosted by the Chinese in Africa / Africans in China Research Network Conference Organising Committee in collaboration with the Centre for Cultural Research and Development at the Department of Cultural Studies, Lingnan University, Hong Kong; and the Institute for Emerging Markets Studies at HKUST.
Speakers
Vivian Chenxue Lu
Fordham University
Derek Sheridan
Institute of Ethnology, Academia Sinica
Mingwei Huang
Dartmouth College
Moderator
Cheryl Schmitz, Max Planck Institute for the History of Science, Berlin
Supported by
HKUST Institute for Emerging Market Studies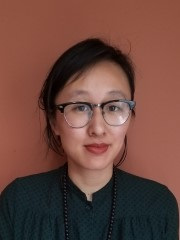 Vivian Chenxue Lu
Emplacing capital: Import anxieties and profit politics in Nigerian south-south commerce
This talk examines how south-south circular migrations are transforming Nigerian markets. Based on ethnographic research amongst transnational Nigerian businessmen between Asia and Africa, this talk focuses on the politicization of Nigerian transnational commercial space and its relation to ongoing postcolonial political anxieties surrounding Igbo ethno-regional identity and national economic sovereignty.
Vivian Chenxue Lu is a cultural anthropologist whose work focuses on capitalism and diasporic mobilizations amongst the Global South. Her first book project focuses on the extensive migratory circulations of Nigerian businessmen amongst contemporary trade sites across Africa, the Middle East, and Asia. Drawing from academic genealogies in the anthropology of capitalism, critical race studies, and postcolonial African studies, her work examines how transnational south-south diasporic formations have transformed Nigerian social imaginaries and discourses of postcolonial political and economic sovereignty.

Derek Sheridan
Developing in Africa: Chinese Migrants to Africa and the Imagined Geography of Uneven Development
Based on the life histories of several Chinese migrants and their families to Tanzania and neighbouring countries, Sheridan examines how "Africa" became both an imagined and desired destination at specific moments when China's changing domestic development made existing livelihoods and strategies of social mobility no longer possible. This talk examines how "Going to Africa to develop" has been premised on the historically contingent (and also continuously changing) uneven geography of development between Africa and China after reform; and how these conditions have afforded the different ways Chinese migrants have thought about their own potentialities and those of their African interlocutors.
Derek Sheridan is a socio-cultural anthropologist based at the Institute of Ethnology, Academia Sinica. His first book, currently in preparation, is an ethnography of Chinese entrepreneurial migrants in Tanzania. Based on fieldwork in Dar es Salaam, a key trading node with a long history of Afro-Asian connections, the book examines how Chinese migrants and ordinary Tanzanians have come to depend on each other for their livelihoods within an uneven and hierarchical global political economy.

Mingwei Huang
The Chinese Century and the City of Gold: On Race and Labor
This paper examines how the history of racialized migrant labour across the region makes possible capital accumulation among Chinese migrants to South Africa. Decades after the end of mine migrancy, the system of racialized migrant labour on which mining depended, Chinese migrant traders rely on the casual labour of an African precariat, migrants from the main sending countries to the mines who continue generations of journeying to the City of Gold and are racialized anew. Engaging ethnographic fieldwork with historical analysis, Huang illustrates how circular migration and the devaluation of African migrant labour born on the goldfields persist, perhaps unexpectedly, at Chinese wholesale malls located along Johannesburg's old mining belt. The paper proposes a palimpsestic approach to thinking about Chinese and African futures. The unfolding "Chinese Century" does not begin and end with the arrival of Chinese migrants but is layered with longer histories of racial capitalism, colonialism, migrancy, and extraction in the Golden City, including the debris of European imperial centuries.
Mingwei Huang is an assistant professor in Women's, Gender, and Sexuality Studies and fellow in the Consortium of Studies in Race, Migration, and Sexuality at Dartmouth College. Her work has been published in Scholar & Feminist Online, Radical History Review, International Journal of Cultural Studies, Public Culture (forthcoming), and Anxious Joburg: The Inner Lives of a Global South City (Wits UP, 2020). Her research has been funded by the Social Science Research Council and the Wenner-Gren Foundation for Anthropological Research and supported by the Centre for Indian Studies at the University of Witwatersrand.